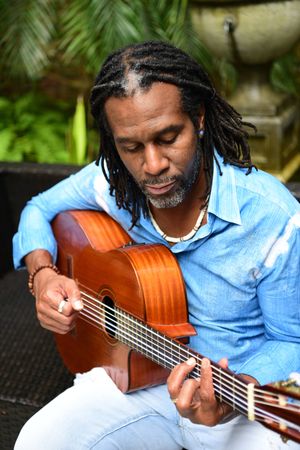 With more than 30 years of songwriting and performing and a wealth of material, the signature sound of Blake Amos is vibrant, seasoned, and timeless. His eclectic style blends Soul and Brazilian elements into an upbeat and refreshing escape. Growing up in New Orleans' rich culture of jazz and funk before living in Brazil has given his music a combination of styles that are naturally complimentary.
A lover of 60s and 70s music, Blake leans into the folk, soft rock acoustics and the passion of soul. Whether singing his original compositions, covering popular standards, or interpreting Brazilian MPB in Portuguese, the result is always inspirational.
Influenced by artists like Bill Withers, Jorge Ben, EWF, and Gilberto Gil, Blake's mission is to create a musical space that unites people of diverse backgrounds in emotion and reflection.
Accolades/Highlights
French Quarter Festival 2022 - New Orleans

Co-authored songs with Brazilian soul/jazz singer and multi-instrumentalist Ed Motta: Suddenly You (Universal Music) and Gifts and Sorrows (Trama)

National Performances: Tipitina's, Zinc Bar (NY), SOB's (NY), Nells (NY), New Orleans Jazz & Heritage Festival, French Quarter Festival, Fiesta Latina, Brown Sugar Club

Played residency at Brown Sugar and jazz festival in Bangkok, Thailand

Played with Carlinos Brown and Timbalada in Candeal, Salvador (Bahia, Brazil)